Description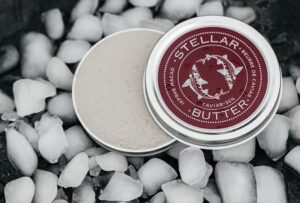 "Stellar Caviar Butter" is made according to the original recipe, published in the "Golden Cookbook" in 1948 by the legendary chef Louis P. De Guy. Our caviar oil has an exceptional taste and delicate aroma, which are characteristic of the original recipe.
The unique taste of caviar in combination with the delicate creamy texture of butter creates an absolute harmony of taste, and its gray pearl color gives a touch of originality and sophistication to each dish.
Caviar is a great side dish to cold appetizers, canapes or as a supplement to seafood and snacks.
DIAMETER OF THE NECK
From 2.2 mm to 2.5 mm
AROMA
The oil has a delicate delicate taste with a nutty aftertaste
ORIGIN
Ukraine